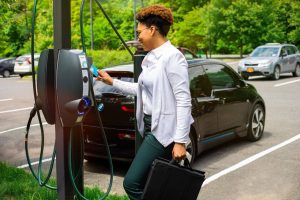 The Greater Springfield Chamber of Commerce is pleased to partner with the EV Energy Group as our preferred provider for members interested in installing electric vehicle charging stations.
The company offers a variety of charging stations—including some that feature digital media towers so that businesses can advertise or sell advertising and receive analytics through EV Energy's "Insights" division.  EV Energy Group also helps businesses navigate the waters of claiming the local, state, and federal funds that have been earmarked to support the establishment and growth of electric vehicles and electric charging networks.
For more information, click HERE to download a promotional flyer, or to discuss your options with charging stations, please contact Gary King, EV Energy's Midwest Director of Business Development at (630) 770-1948 or gary.king@evenergygroup.com.