Membership in The Chamber creates a strategic partnership that links your business with the proven chamber of commerce brand and that affiliation enhances your business credibility.  Through our various business-to-business marketing opportunities, you can cost-effectively sell your products or services to a high quality, targeted audience of Chamber members which are both a business to business and business to consumer audience.  Members are encouraged to do business with fellow Chamber members whenever possible.
Member Information Center (MIC)
Members of The Greater Springfield Chamber of Commerce have access to an exclusive, simple-to-use online marketing tool called the Member Information Center (MIC).  The MIC gives members greater control over their website listing and brand. In addition, a member's listing in The Chamber's online Business Directory can enhance the company's Search Engine Optimization (SEO).
Members can market their business through their own web page in the Business Directory and submit news releases, events, job postings or hot deals that are published on the Chamber's website and Facebook page for greater reach and visibility.  Members can also update business contact and representative information as well as optimize their listing by including a business description, hours of operation, and social media links.
Login credentials can be created by using the link on the Member Login page or by contacting The Chamber at (217) 525-1173.
The Brief Email Blasts
The Chamber publishes a weekly e-newsletter, The Brief, which can include your marketing message. The email is sent every Wednesday to over 3,500 individuals from Chamber member businesses. The email contains information and links to important business and economic issues, Chamber news and activities, upcoming events, resources available, helpful business tips and member news releases. There are three positions for a sponsorship banner and each is an inexpensive way to reach other members.
Website Advertising
The Chamber's website is a traditional and trusted source of business information. People on our website have already made an important business decision; they are looking for a reputable business in our area. Advertising on our website allows members to direct their message to specific site visitors and/or all visitors to the site. The Chamber's website is a powerful and cost-effective advertising tool.
Enhanced Listing on Website
Members can increase their search engine optimization by upgrading their listing in our online business directory! Receive priority placement over Basic directory listings. Add your logo, business description, unlimited search keywords, photos and more!
Update Magazine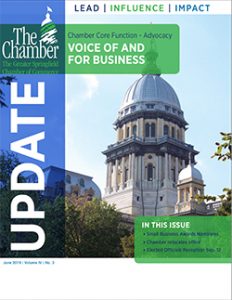 The Chamber's Update magazine, published six times a year, serves as a communication and information source to keep members current with Chamber events and activities as well as business and economic issues important to Springfield and Sangamon County.  Nearly 2,000 full color copies are distributed to Chamber members, business leaders, advocates and influencers of our community. Discounts are available when advertising in three or all six issues. Industry focus topics throughout the year include Real Estate & Construction; Professional Services; Healthcare & Senior Care; Food & Retail; Business Services & Technology; and Banking & Financial Services. A digital version of each Update magazine is published on The Chamber website. Advertisers have the opportunity to upgrade their print ad to include a link to their website in the digital version.
Direct Mailing
The Chamber's Direct Mailing Program is a cost-effective way to reach fellow Chamber members with a direct mail piece.  Each month, The Chamber organizes a mailing of flyers to members announcing upcoming Chamber events and programs.  Members have the opportunity to insert a flyer into the mailing that reaches approximately 2,000 business leaders for a fraction of the cost of an independent mailing.  Click HERE for program details.  Our Direct Mailing is an effective way to advertise everything from a grand opening to the launch of a new service or product in a highly visible and timely manner.
Event Sponsorships
The Chamber hosts many events throughout the year, which are enhanced by the participation of member sponsors. Chamber events are designed to connect people on either a business or social level and only members have the opportunity to serve as event sponsors. Being a sponsor is a great way for businesses to receive publicity while showing support for The Chamber and community. The cost depends on the event and the level of sponsorship. Click for a list of Chamber events and sponsorship opportunities available.