Strengthening Our Community One Leader at a Time
What is Leadership Springfield?
Leadership Springfield (LS) is the premier leadership training program in the Capitol City.  Leadership Springfield is a 14 week series of half day programs during which participants gain leadership skills and in-depth exposure to critical issues affecting the Springfield area.  During the program, participants interact with community leaders and decision makers who share diverse perspectives on significant accomplishments and opportunities within the Springfield community.  Interactive professional development is a cornerstone of Leadership Springfield.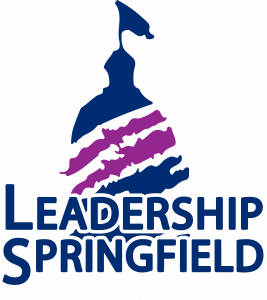 Why Leadership Springfield?
Leadership Springfield is a program that aims to develop, strengthen and equip local professionals to benefit the Springfield area.  The curriculum represents a number of different facets of life and commerce in Springfield.  Topics for the Leadership Springfield program typically include:
Leadership Development
Education
Healthcare
Public Safety
Government
Strategic Planning
Team Building
Tourism
Technology & Innovation
Why you?
Below are a few testimonials from the participants of the last LS class that graduated in January.
"The opportunity to participate in the 2019 class of Leadership Springfield, was a fantastic experience.  The breadth of information and perspective that it provided, from organizations all across the city of Springfield, was unmatched by any other program I've seen.  The relationships built and contacts gained during the program, will continue to pay dividends for the rest of my career.  This has been an experience that I wouldn't trade for the world."
-Damon Brown '19, The Horace Mann Companies
"As a new resident of Springfield, I really appreciated the opportunity to meet with a variety of our city's leading citizens and visit the sites of our major industries and attractions.  I've made connections with other professionals and organizations that will help me and my own organization grow,"
-Vern Linquist '19, Lincoln Land Community College
"Leadership Springfield offered a valuable opportunity to learn more about the Springfield community and some of the larger businesses have to offer.  It was great getting to know and network with other Leadership Springfield class members.  I have established some valuable relationships through this program."
-Ashley Koster '19, HSHS Medical Group
"Leadership Springfield exposed me to a variety of industries and enabled me to form those all-important network connections that will benefit me in my career for years to come. I found the experience to be incredibly beneficial and highly recommend to anyone considering this program." 
-Jokima Christison '19, Springfield Clinic
How do employers benefit from sponsoring an applicant?
In general, employers of all kinds benefit from the employee's improved leadership, and team and problem-solving skills.  Through their employee's involvement, employers gain access to a broad network of prestigious leadership contacts across all sectors, and extensive knowledge of the issues facing the community.  The consensus is their employees learn the "who's who" of the community and the value of the power of individual influence around regional change.
History of Leadership Springfield
Established in 1986 by The Greater Springfield Chamber of Commerce and the Junior League of Springfield, Leadership Springfield has over 800 graduates since its inception.